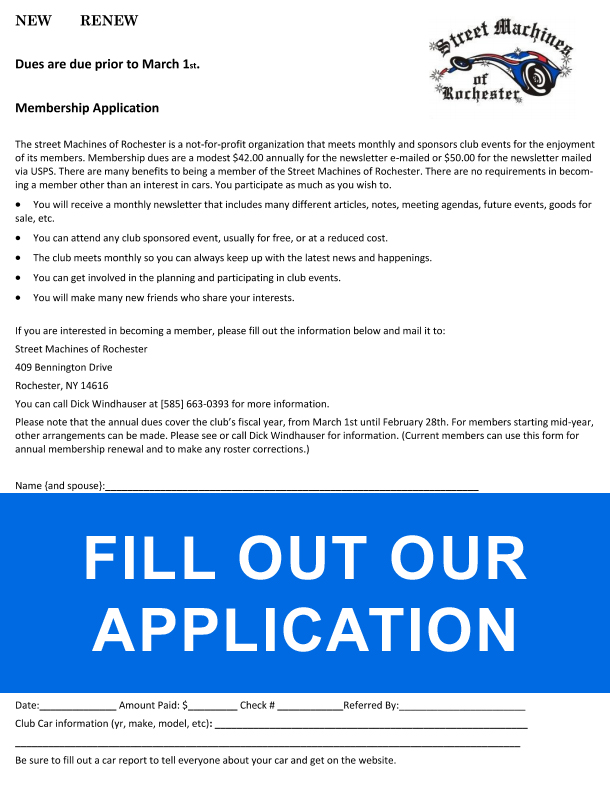 If you are interested in becoming a member of the Street Machines of Rochester, you can email club secretary Richard Windhauser – streetmachines64@aol.com
Please review the rules and regulations below that are associated with being a member of the club
Rules & Regulations for Club Members
Qualifications for prospective members
A prospective member will be briefed by a club member and eventually by a board member on how the club functions, what is involved within, and the seriousness of the club's image. The club and its' name are well known in and around the community.
Vehicle (club car) aspect of the prospective member:
Although the prospective member is a car enthusiast, not having a unique vehicle, does not mean that you are not eligible to join the club. They may have had one at one time or are in the process of locating one.
This club will accept any type, make, year, and model of any car/truck in Stock, Classic, Muscle, Trick or Modified state.
All new members with the intent of purchasing and displaying club colors, (coats, shirts, hats, etc) will do so with the understanding of the good conduct in one's self and in the representation of the club.
Rules and Responsibilities of Club Members
All members must show respect for fellow members.
Members must practice mature driving habits. The club does not approve of wild driving, excessive burnouts, or racing on public roads or highways.
Members are expected to act in a mature, adult like manner when representing the club or wearing club colors, (i.e. while at a club event, car show, cruise night, etc)
Members are encouraged to be in good attendance at meetings and club functions. Read the newsletter and keep themselves updated on what is going on within the club.
There will be no competition between club members. ( no one is above another)
Members should help or assist fellow members whenever possible.
Members are encouraged (not required) to perform jobs, (volunteered or assigned) at club functions/shows.
Personal matters, activities or actions should not interfere with meetings or the general body of the club. If one cannot adhere to this rule, and it is felt that your actions or activities would bring down the club's moral and-or reputation, you may be asked to excuse yourself from an event or from the club as a suspension for subject matter that was uncalled for.
Serious arguments between club members are unacceptable when in public places and while wearing or displaying club apparel.
Excessive consumption of alcoholic beverages in public areas while displaying club or wearing club apparel can definitely give an outsider a bad image of what the club really stands for. In today's environment, NYS drinking and driving laws, that the club supports, are heavily enforced. We definitely fall under the driving category.
Club apparel is for use and enjoyment by club members and family only.
Club members should refrain from discussions that could negatively affect the reputation of the club.
We encourage our members to participate in community activities promoting the car hobby. We also realize that while some vehicles have been completely restored, some are in original condition and others are somewhere in between. When the club is participating in parades, it is asked that anyone considering representing the club in a parade know that we want to show the public quality examples of the vehicles we all love and share. With that, we would like to implement a 10 footer rule. In that if your car looks good from 10 feet or more, your car would be considered parade worthy.
Rules and Responsibilities for Club Members – On the Road
Reckless driving on public roads and highways is poor misrepresentation of the club, especially if you are known by your car.
If a long distance cruise is in progress, there should be radio or cell phone contact between the lead car and the tail end car, in case there are breakdowns or route changes, etc.
As a club member, one should take pride in displaying and driving the club car, and not taking advantage of using the vehicles' horsepower where it is not applicable. Liabilities can ruin you.
*All paid members agree to abide to all rules and regulations of the Street Machines of Rochester.